Are you looking to help during the Covid-19 crisis?
We are recruiting for Covid-19 volunteers to help during the second wave response. Please register your interest to volunteer by filling this form.
We've had an amazing response from over 1,700 people during the pandemic's first wave in Sutton. Almost all of them have volunteered or are currently volunteering in some capacity.

Many local Sutton organisations are restarting their volunteering programmes and activity but are finding that many of their previous volunteers are unable to safely return to volunteering right now. We are here to help these organisations find new volunteers so if you would like to find a local volunteering role, please sign up to receive our monthly Volunteering newsletter.
Neighbourhood Volunteers Project
If you registered to help during the Covid-19 crisis, you will have heard from us about our Neighbourhood Volunteers Project. Download the Volunteers' Pack here.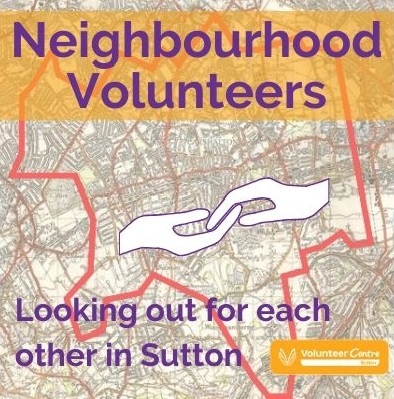 Volunteer Centre Sutton is the operational name of Sutton Borough Volunteer Bureau | Company type: Charitable incorporated organisation | Company number: CEO19319 | Charity number: 1048978 |