Are you looking to help during the Covid-19 crisis?
There has never been a greater need for volunteers to help in our community. There are different ways in which you can help. But please take note of the steps below ALL volunteers must take to make sure you do not contribute to the spread of coronavirus.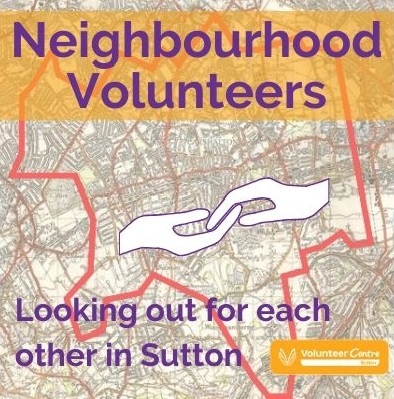 NEW: Join our Neighbourhood Volunteers project. Download the Volunteers' Pack here.
UPDATE 15th April 2020: We have been overwhelmed by the amazing response which has seen over 1,500 volunteers sign up to support Sutton in just under 4 weeks. As a result, we are not actively recruiting for more volunteers at this time. You are welcome to still sign up but please be aware that you may not be called upon in the near future. Thank you again for your support.

Another way in which you can help is to support our Covid-19 appeal - find out more...

To sign up please register here
This is a coordinated effort between the London Borough of Sutton Council, Volunteer Centre Sutton, Community Action Sutton and Age UK Sutton. We're building a list of people who can support those who are most at risk from the Covid-19 pandemic and others who are struggling and might need help. Along with our voluntary sector partners, we will use this information to coordinate your pledges of support in Sutton, including referral to key local groups in Sutton.
Those helping might be called on to do vital tasks such as:
food parcel packing
food parcel delivery
telephoning vulnerable people
providing practical support to older people and other vulnerable groups affected by Coronavirus (COVID19) e.g. shopping
supporting the running of foodbanks and community meal providers
driving – to transport people and supplies
IT advice for voluntary organisations and individuals about communicating online
Administrative support – helping organisations to change the way they deliver services and contact people in need
By adding your details you are agreeing to the following:
I agree to share my data with Volunteer Centre Sutton and for them to pass that information on to any third parties in order to best coordinate the overall response to the Covid-19 outbreak.
If you represent a group in Sutton who have potential volunteers that could offer support you can register on behalf of your group using the same form and answering the question "Do you represent a group of existing volunteers and are contacting us to offer their help? If YES, please tell us the name of the group and its nature"
Be a good neighbour
If you want to help, then you do so at your own risk and do make sure you follow all the practical measures to keep as safe as possible (see below). If you are over 70 and/or have a medical condition that makes you more vulnerable, then please do not put yourself at further risk by offering to help others.
We are building a map of local help in Sutton so that we can match anyone who is isolated or struggling with support on their doorstep if needed. If you have set up a support group in your street or local area, or if you know of groups like this, please can we ask you to register them here:https://arcg.is/1W84eS
Please make sure you are following these steps to prevent the spread of Coronavirus:
If you feel unwell, do not volunteer
Wash your hands regularly, especially before and after you deliver any items to a person in isolation
Stay 2 meters away from the person who is in isolation
Be careful about how you share personal information about yourself and other people
Try to support people who live close to you to avoid travelling long distances
Sign up to be an NHS Volunteer Responder
Members of the public can sign up via goodsamapp.org/NHS to become NHS Volunteer Responders.
NHS Volunteer Responders is not intended to replace support in Sutton but is an additional service provided by the NHS.
Volunteer Centre Sutton is the operational name of Sutton Borough Volunteer Bureau | Company type: Charitable incorporated organisation | Company number: CEO19319 | Charity number: 1048978 |