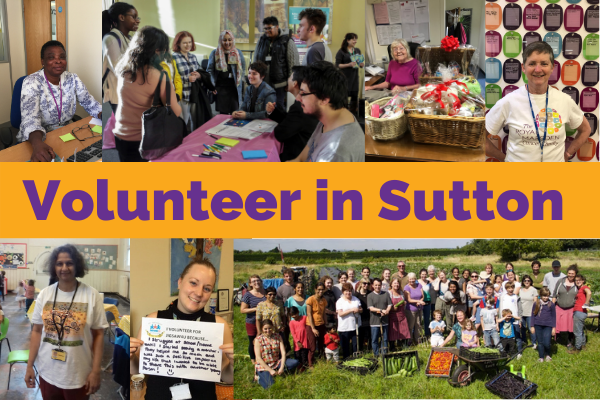 We work with over 400 groups and organisations across the London Borough of Sutton, many of which have a wide variety of volunteering opportunities. Our Volunteer Connect database has detailed descriptions of current available roles explaining what activities are involved and is open to anyone to browse through.
Through our extensive network, we are the first port of call for anyone looking to volunteer in Sutton. With over fifty years' experience in matching people to volunteering opportunities, we can help you find your perfect role based on your skills and interests, as well as your commitment and availability.
Browse for volunteering roles and opportunities on our Volunteer Connect database
If you would like to register with our Volunteer Connect database, you will be able to express an interest in a role, and contact the organisation through the message board. Our staff at the Volunteer Centre are happy to help you with registering.
Guide for Volunteers Registering with Volunteer Connect.
Already registered with Volunteer Connect? Log in here
Our face-to-face volunteer advice service is currently suspended but we can offer online or telephone support.
Or call us on 020 8661 5900 Monday to Friday 9.30am to 4.30pm | email us at hello@vcsutton.org.uk.
You can also sign up to receive our monthly volunteering newsletter with all the latest roles. Why not have a browse through our previous newsletters to give you some inspiration...
May 2021 volunteering newsletter
April 2021 volunteering newsletter
March 2021 volunteering newsletter
February 2021 volunteering newsletter
January 2021 volunteering newsletter
Volunteer Centre Sutton is the operational name of Sutton Borough Volunteer Bureau | Company type: Charitable incorporated organisation | Company number: CEO19319 | Charity number: 1048978 |