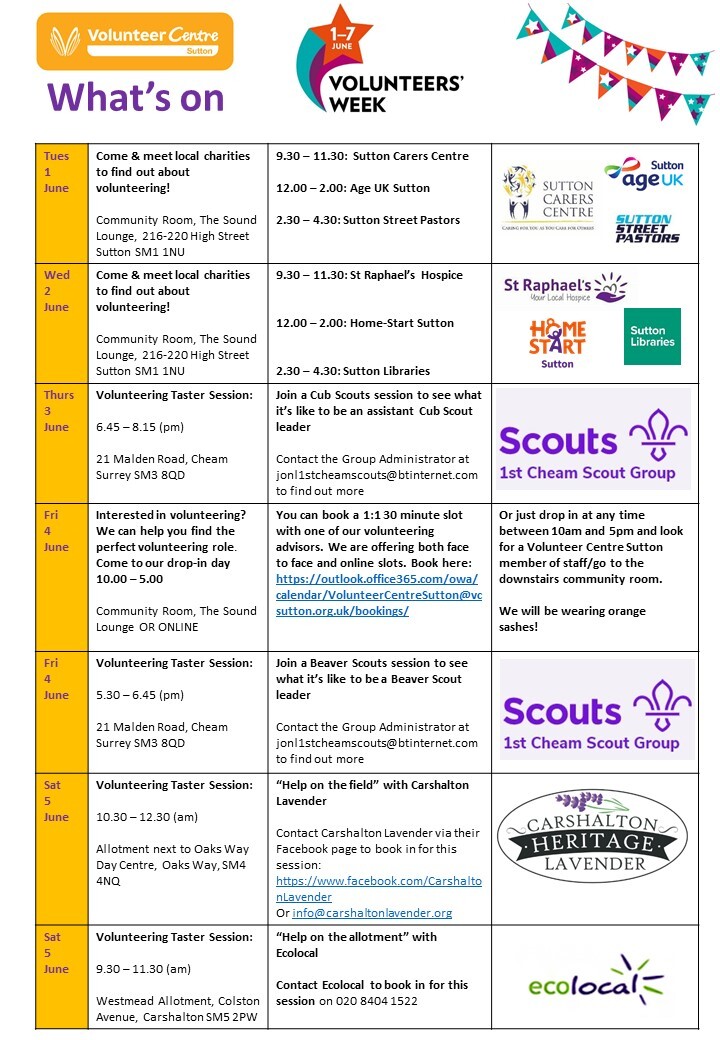 We've got lots of exciting things planned for Volunteers' Week 2021!
Download our 'What's On in Volunteers' Week 2021' guide
Come to our Drop-in Day on Friday 4 June!
Interested in volunteering? We can help you find the perfect volunteering role. Come to our drop-in day at Volunteer Centre Sutton, in the Community Room (ground floor) at The Sound Lounge, 216-220 High Street, Sutton SM1 1NU. Get directions
You can book a 1:1 30 minute slot with one of our volunteering advisors. We are offering both face to face and online slots. Click here to book
Steps to book a session:
Step 1: select a service: Online or face-to-face session
Step 2: select the date – 4th June 2021
Step 3: select a time
Step 4: fill in your details
Step 5: book your place!
Or just drop in to The Sound Lounge at any time between 10am and 5pm and look for a Volunteer Centre Sutton member of staff (wearing orange sashes)/go to the Community Room (ground floor).
Come and meet Sutton charities and organisations
Find out more about volunteering with local groups and charities. Each of these charities will be in our Community Room, downstairs at The Sound Lounge, 216-220 High Street Sutton SM1 1NU at the following times:
Tuesday 1 June 9.30 - 11.30: Sutton Carers Centre - visit their website
Tuesday 1 June 12.00 - 2.00: Age UK Sutton - visit their website
Tuesday 1 June 2.30 - 4.30: Sutton Street Pastors - visit their website
Wednesday 2 June 9.30 - 11.30: St Raphael's Hospice - visit their website
Wednesday 2 June 12.00 - 2.00: Home-Start Sutton - visit their website
Wednesday 2 June 2.30 - 4.30: Sutton Libraries
#WhyIVolunteer - share your story on Tuesday 1 June
Tuesday 1 June is a special day on social media where we are inviting all volunteers in Sutton to share why they volunteer. We'd love you to take part! Take a selfie with our #WhyIVolunteer sign, which you can download and write on, about where and why you volunteer. Share your selfie on social media, and tag Volunteer Centre Sutton:
Find us on Facebook Find us on Twitter Find us on Instagram
Download our #WhyIVolunteer sign
Find out more about the volunteering roles we are promoting during Volunteers' Week
All the roles listed here (Name of organisation/volunteer role/link to role description) can be found on Volunteer Connect:
YMCA Sutton - YMCA Stock Team - click here to read a role description
YMCA Sutton - YMCA Sutton Sales Assistant - click here to read a role description
Volunteer Centre Sutton - Benefit Form Filler Advisor - click here to read a role description
Eye Heroes - Workshop Volunteer - click here to read a role description
Eye Heroes - Administrative Volunteer - click here to read a role description
Eye Heroes - Communications Volunteer - click here to read a role description
1st Cheam Scout Group - Group Treasurer - click here to read a role description
1st Cheam Scout Group - Assistant Cub Scout Leader - click here to read a role description
1st Cheam Scout Group - Assistant Scout Leader - click here to read a role description
1st Cheam Scout Group - Beaver Leader - click here to read a role description
1st Cheam Scout Group - Cub Scout Leader - click here to read a role description
1st Cheam Scout Group - Group Scout Leader - click here to read a role description
Sutton Neighbourhood Watch Association - Neighbourhood Watch Treasurer - click here to read a role description
SACCO Sutton African & Caribbean Cultural Association - Treasurer - click here to read a role description
Princes Trust - Volunteer Coordinator - click here to read a role description
Share Community - Social Buddy Volunteer - click here to read a role description
Home-Start Sutton - Home-visiting Volunteer - click here to read a role description
Girl Guiding Sutton - Girl Guiding Leaders/Unit Helpers - click here to read a role description
Girl Guiding Sutton - Instructors/Advisors/Administrators - click here to read a role description
Focus Surrey - Volunteer for Saturday Club for Children with Autism - click here to read a role description
Focus Surrey - Volunteer for Saturday Club for Children with Autism Play Facilitator - click here to read a role description
Sutton Befrienders - Volunteer Befriender - click here to read a role description
Sutton Befrienders - Volunteer Reviewer - click here to read a role description
Sutton Befrienders - Activities & Events Volunteer - click here to read a role description
Sutton Befrienders - Volunteer Walk Leaders - click here to read a role description
MAPS Mentoring Advocacy & Peer Support - Children & Young Person's Mentor - click here to read a role description
Volunteer Centre Sutton is the operational name of Sutton Borough Volunteer Bureau | Company type: Charitable incorporated organisation | Company number: CEO19319 | Charity number: 1048978 |