About Us
Sutton Borough Volunteer Bureau has been supporting people and communities within the London Borough of Sutton for over 50 years. In 1995 we became a registered charity with the aim to support those most in need by using the power of volunteers.
Although now we are known as Volunteer Centre Sutton, our main aim remains to utilise people to support community and individuals, those most in need within Sutton, including the delivery of award-winning volunteer led projects. In 2020 we updated our aims and objectives and became a Charitable Incorporated Organisation.
Read our latest Impact Report (2020-2021)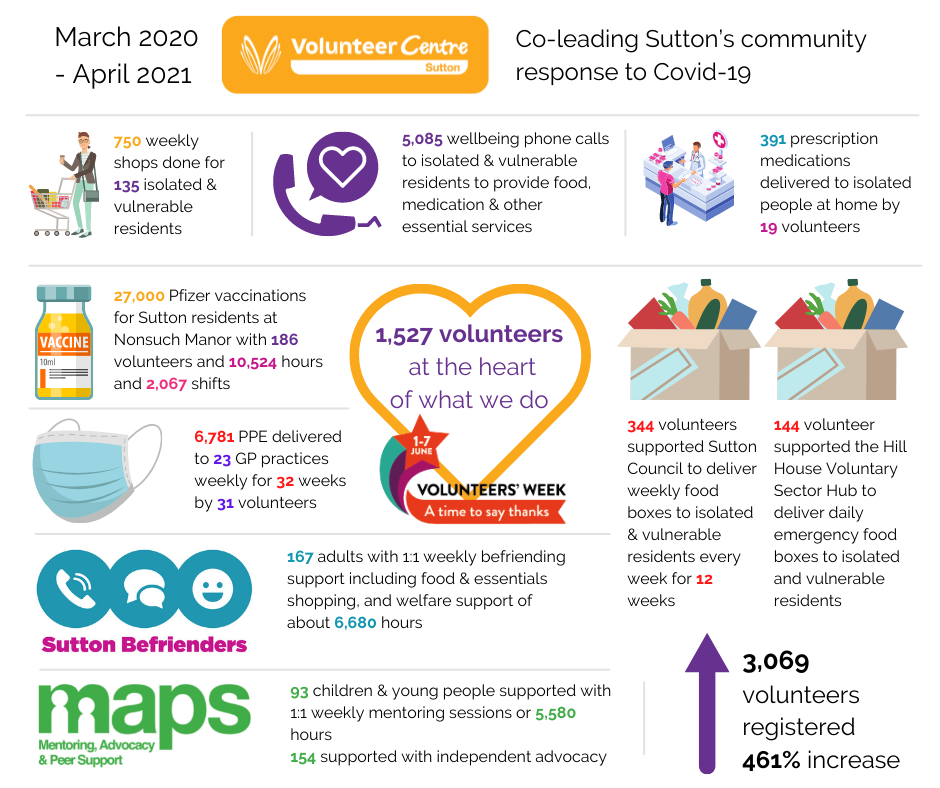 Our Mission
Empower People, Strengthen Community
Our Vision
'Inspiring community' by unlocking potential through the power of volunteers
Our Values
Inspiration, Excellence, Inclusivity
Our Strategic Goals
People Led - Ensure everything that we do is led by and involves people.

Share Knowledge - Be known for sharing and building knowledge to individuals and organisations within our borough.

Deliver Innovation- Work with individuals to identify, create and deliver high quality innovative services to meet their needs.

Enable Communities - Through the power of volunteers and services, build and empower communities.
Why we involve volunteers
Volunteers offer vital help to people in need providing help to worthwhile causes and the community. We want to benefit the volunteer by equipping them to learn new skills, engage them with community, to encourage them to find new friends. Involving volunteers can allow organisations to extend the service(s) they offer, often bringing diversity and variety, and adding value to it. Engaging volunteers may actually enable large-scale service-delivery. Without them there would be no service.
Find out more about volunteering...
What do our volunteers do
Volunteers participate in all aspects of Volunteer Centre Sutton's work, depending on their individual skills, experience, preferences and the needs of the organisation. Our Volunteers participate in a range of projects delivered by us at Volunteer Centre Sutton, each developed after identifying a need within our community. We're committed to leading by example with all our projects to demonstrate the impact that great volunteering teams have on recipients of our services, volunteers themselves, and the wider community at large. Find out more about volunteering with us at Volunteer Centre Sutton...
Our Projects
MAPS Mentoring Advocacy & Peer Support

Helps young people with complex life circumstances achieve their full potential through the support of a volunteer mentor or advocate. Find out more...
A friendship and support volunteer service for the elderly and adults with support needs who find themselves feeling isolated or lonely, whether through ill health, lack of mobility or lack of regular contact with family and friends. Find out more...

Enables better representation of the community's views in the Council's spending through the engagement of volunteer citizen commissioners. Find out more...
Empowers young people to help shape effective services, policies, learning, and developing activities in priority areas concerning the community. Find out more...
Volunteer Administrators & Advisors
We are supported by a wonderful team of volunteers at the centre, helping our reception desk and main telephone switchboard, advising members of the public on volunteering opportunities, supporting residents with form filling and organising group activities.
From responding to Covid-19 to offering pen pal service to an isolated adult, our Neighbourhood Volunteers support the London Borough of Sutton for specific short-term projects that run throughout the year.
Reaches people with additional needs to overcome barriers and enable them to volunteer, and supports organisations to widen their volunteering programmes, providing volunteering opportunities for all. Find out more...
Who's who
Huge thanks to our team of team of wonderful volunteers working with us at the Volunteer Centre Sutton.
Where you can find us
Our main office is Market House, 216-220 High Street, Sutton SM1 1NU
Volunteer Centre Sutton is the operational name of Sutton Borough Volunteer Bureau | Company type: Charitable incorporated organisation | Company number: CEO19319 | Charity number: 1048978 |