Broadening our horizons
| | | |
| --- | --- | --- |
| | | This blog is by guest blogger Judith Smith, Pastor of Horizon Church. Judith has had several really positive experiences hosting Employer-Supported Volunteering (ESV) teams at her church building, from which the church runs a number of community projects, and here she communicates the impact that ESV can have on a voluntary organisation, as well as some of the challenges and lessons learned along the way. |
---
First contact
My first experience of Employer Supported Volunteering (ESV) wasn't through me contacting a local business but by them contacting me! It was so refreshing speaking to a person (Julie Lever from Reed Business Information) who wanted to support a local charity without any strings attached. What's more, they meant it - and backed up their offer of help with support in dealing with the "red tape" that always accompanies such schemes (e.g. risk assessments, etc.).
Julie followed up her telephone conversation with a visit to Horizon Church Centre, along with two of her colleagues to witness for themselves the sort of community groups we run. Their admiration and enthusiasm for all we were doing encouraged us (I don't know about other voluntary/charity groups but we are so busy working hard to make a difference in our community that we neglect to shout about all we achieve!). Julie and her team instantly wanted to get their company involved using their Employment Support Volunteering Scheme and so we put our heads together and came up with different volunteering opportunities, including computer support, building maintenance, gardening and serving at our Seniors' Christmas Lunch.
Many hands make light work
Our first team arrived to spend a day helping us with work on our building in May 2016. There were 17 enthusiastic people from their Information Technology Department, who set about doing things that had been on our "to do list" for ages! We just hadn't found the time or person-power to do them ourselves, and we certainly couldn't afford to pay anyone to do them!
By the end of the day, the building was transformed: concrete path had been laid to the shed; the walkway to the shed was covered over with iron sheeting to keep us dry; a compost heap had been constructed out of pallets; the outside brickwork and interior walls were painted; chairs were cleaned; the kitchen got a deep clean; and so much more!
Gels like team spirit
Then at the end of the day they thanked us for such a great time! They had found getting out of the office and applying themselves to tasks and problem solving such a great team building exercise which enriched their team.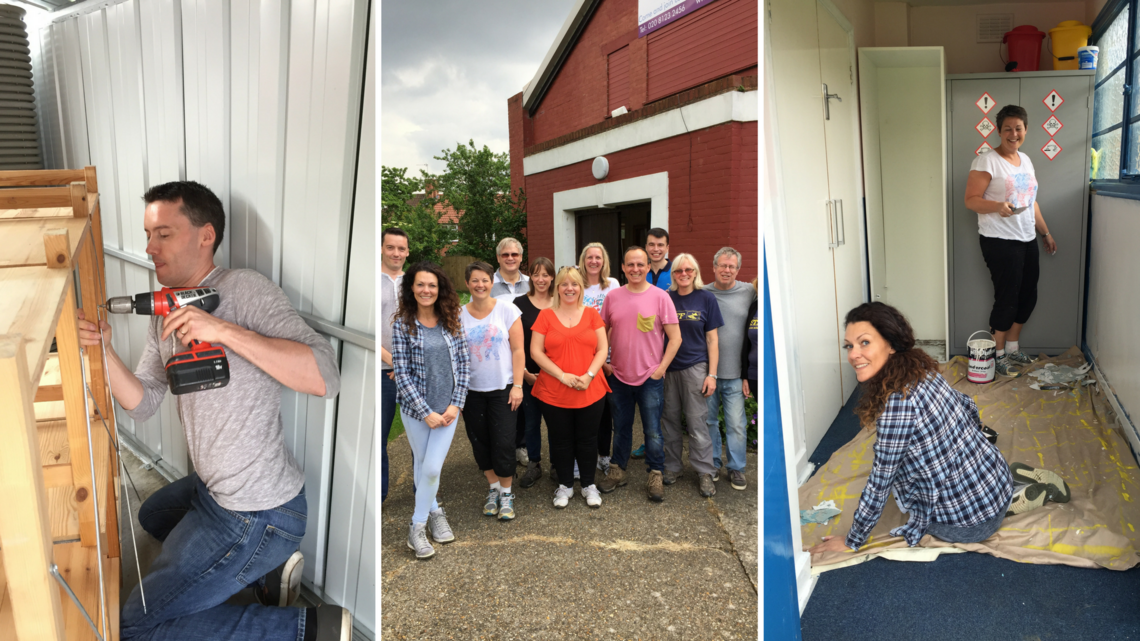 They had achieved so much work in one day we were amazed, and the team enjoyed it so much that they came back again in June 2017 to carry on where they had left off! The second team of 8 from their Executive Management Team came in June 2016 and set about painting, cleaning children's outdoor play equipment, putting up shelving in the storage shed, checking and logging freezer contents, and much more.
We loved having the teams from RBI with us and they were able to achieve in one visit what would have taken our (already stretched) volunteers months to achieve. Other individuals from RBI have since fixed our computers, served at our seniors' lunches and given a day's training on QuickBooks to our bookkeeper.
Best laid plans
The challenges for us hosting a large team on a building-focussed day included: preparing the list of jobs to be done; sourcing the materials and supplying the tools and equipment needed to complete tasks; providing enough of our volunteers/staff on site to be able to provide knowledge, guidance, and answer questions so that the ESV teams could keep fully active; and putting adequate Risk Assessments and Health and Safety in place. We put in a lot of effort and organising prior to the event to make the day a success but what the team achieved far outweighed this.
Less-on learned
I suppose the key thing we learnt from the first visit was to allocate enough time at the end of the day for clearing up, putting away tools and equipment, and cleaning the premises so they were fit for use at an event the next day. After the first team day we found ourselves putting the building back to rights well into the early evening and we were exhausted. So now we put slightly less on the end of a day's schedule and instead build in clearing away, tidying up and leaving the building ready to use as part of the whole day.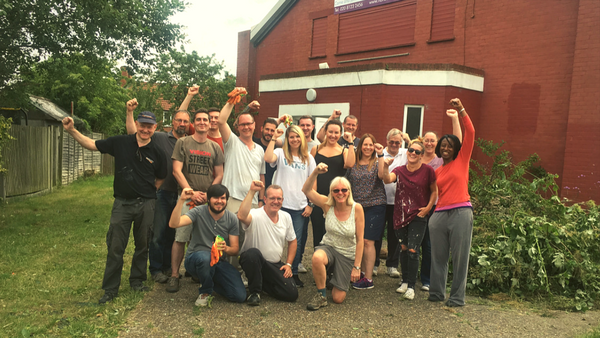 I found that supplying tea, coffee and cakes helped not only fuelled the workers but gave opportunity for our staff and volunteers to spend time chatting with all the team members – not just the ones they were working with.
One thing I did at the beginning of a ESV day (over a cup of tea/coffee on arrival) was to give the team an overview of the community work undertaken by Horizon on the St Helier Estate. This really helped the team visualise the part they were playing in supporting this important work. They left knowing they had made a huge difference to a small charity doing a big job.
Top tips for a tip top ESV experience
Make sure you know what you want the volunteers to achieve and spend plenty of time organising the day so that all are gainfully employed and feel that their day was of value
Embrace the red tape! Make sure insurance, Risk Assessments, etc. all line up, do a Health and Safety briefing at the start of the day and make sure there is a First Aider on site.
Remember the day is as much about building relationships as it is in getting jobs done. Enjoy your time with the volunteers!
Factor in clearing up/putting things back into the day
Take lots of photos and celebrate the work done
Say a massive thank you on the day, follow that up with an email/phone call and share photos
In good company
The relationship with RBI and ourselves is an ongoing one – we love them coming and they love helping us. The fact that most of the volunteers want to come back again speaks for itself. This year they helped with practical work on the building and grounds, are booked to come and doing some singing at our seniors' Christmas bash and also are wanting to come and help serve up the Seniors' Christmas dinner. There are also plans for a day spent helping with our Parent and Toddler Group and Family Homework Hub. A massive shout out to RBI and their incredible staff - especially Julie Lever (Charity Development Executive) who, through her enthusiastic dedication, makes great things happen.
Want to know more? Read about our ESV forum