2nd December 2020: we're delighted that our walking groups will resume week commencing MOnday 7th December 2020
Our FREE low level walking groups are restarting with all social distance guidelines followed.
So if you want to meet new people, get some fresh air and have a little fun, why not join us?
We will follow the guidelines regarding social distance while outdoors and "stay alert"

We have several walk leaders and will split into groups of 6 people max to allow for different paces and observing social distancing

We will be keeping two metres away from other people

If using public transport, you will have to wear a face covering

Please wear suitable footwear with grip soles

Please bring a bottle of water with you as we will not be stopping for refreshments.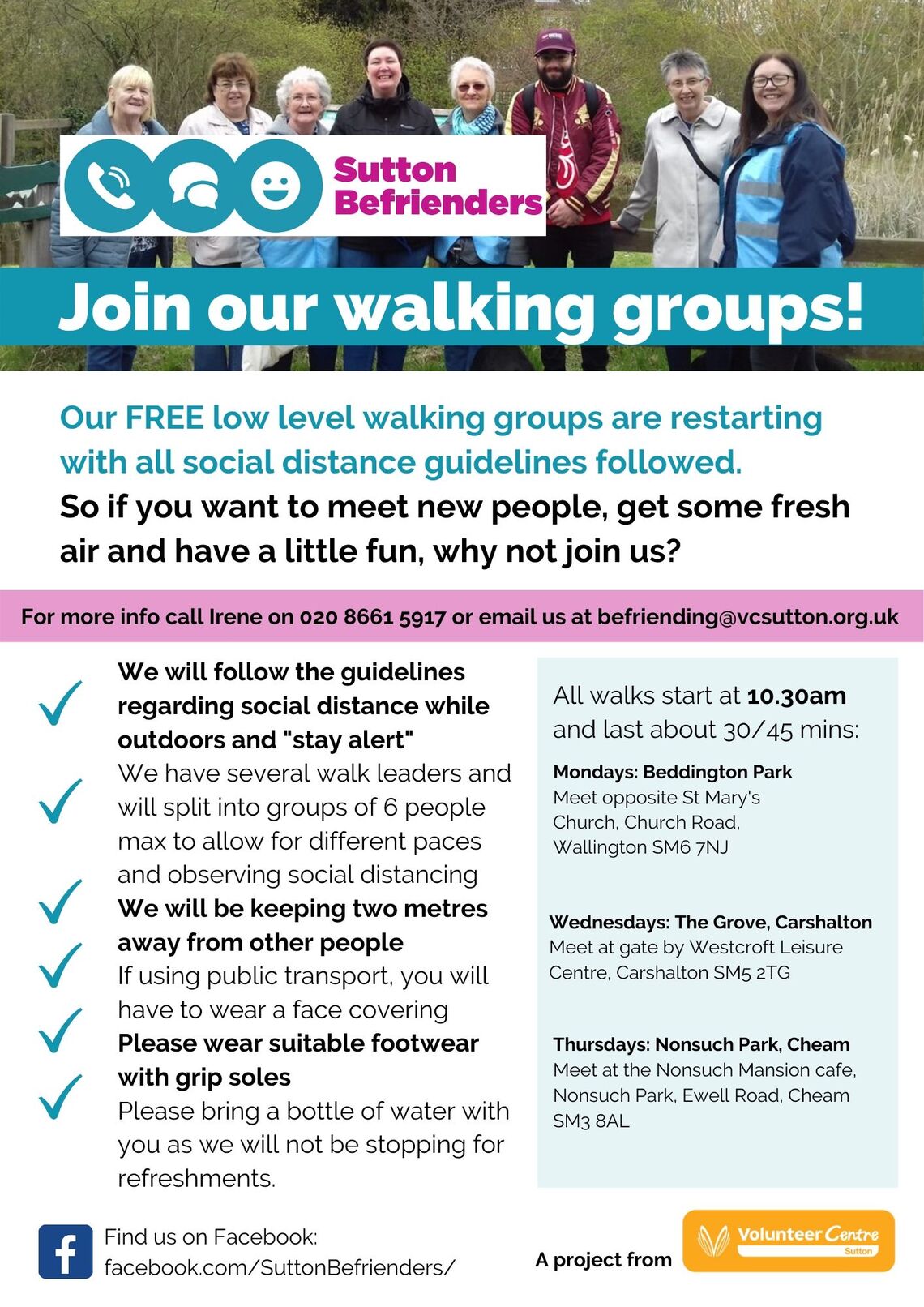 Our sociable walking groups set up by Sutton Befrienders are to help people in the community get active, have fun and enjoy the benefits of walking in a safe and friendly group.
They are open to anyone who may enjoy a nice walk with some company so please feel free to come along on your own or with a friend.
Don't worry if you think you walk slowly. Each walk has at least two leaders so that the group can split into two groups with slightly different paces. The main aim of these groups is for people to meet others, get a little fresh air and hopefully enjoy themselves!
If you know someone who you think may benefit from these walks but might need a bit of encouragement, please feel free to refer them to us, with their consent. We will make contact with them to arrange for one of our walking group leaders to meet them, introduce them to the group and walk with them until they are more confident. To make a referral please email befriending@vcsutton.org.uk.
Find out more about Sutton Befrienders.
Volunteer Centre Sutton is the operational name of Sutton Borough Volunteer Bureau | Company type: Charitable incorporated organisation | Company number: CEO19319 | Charity number: 1048978 |