That was the question we asked at our July Volunteering Forum. We looked at the findings of the recent NCVO report "Time Well Spent". This explored how people participate in volunteering, how it fits into their lives and gives us a better understanding of their volunteering journey and experiences. It also addressed the question of what the future of volunteering might look like.
Over the next few months we will look at some of the findings in more depth. But for now, here are some key take-aways:
Who is volunteering?
80% of people volunteer within their own neighbourhood
Older, (65+) well educated and from a higher socio-economic group are most likely to volunteer
25-34-year olds are least likely to volunteer
9% of the adult population accounts for 51% of all volunteering hours
How are they volunteering?
39% volunteered at an event
23% volunteered in a one-off role
Impact on the volunteer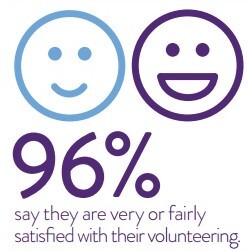 Good news if you are a volunteer manager as 96% of volunteers reported being satisfied with their experience, and 82% felt they were well supported.
Enjoyment ranked highest among a range of benefits volunteers felt they get out of volunteering.
Other important benefits are a sense of connection, improved mental health and a feeling of personal achievement.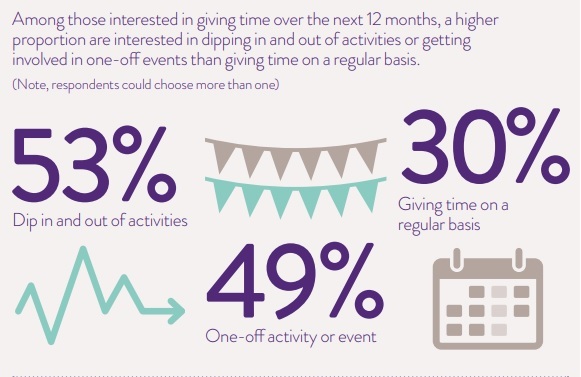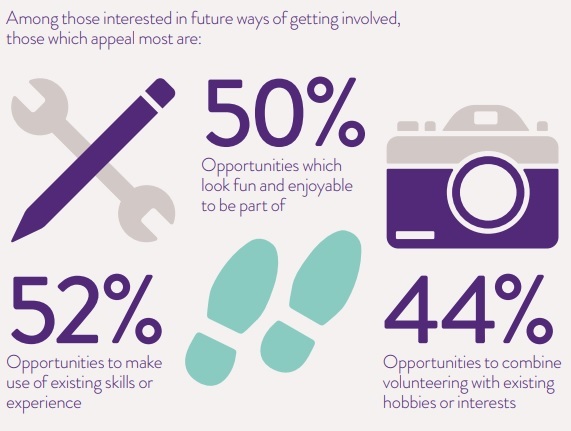 Engaging volunteers for the future
The way in which people want to give time is rapidly changing with less people wanting to commit on a regular basis. This is worth Organisations bearing in mind when it comes to developing their volunteering programmes. Why not look at more short-term opportunities, flexible roles and one-off events? As a sector if we do not adapt, we will stagnate and eventually struggle for volunteers.
VCS can help promote new opportunities on Volunteer Connect or our short-term volunteering page on our website. So please get in touch if you would like help in developing and promoting new opportunities.
Our key take-away is shorter is better for future volunteering.
Download the Volunteering Forum presentation
Participants feedback
"Excellent networking opportunity yesterday and an opportunity to share practices and discuss the Time Well Spent report."
"Increase wherever possible the opportunities for short term volunteering"
"Thank you so much for your informative forum yesterday"
Sign up to receive our Organisations newsletter to keep up to date with all the latest resources, forums, training and promotions