The MAPS project provides mentoring and advocacy support to vulnerable children and young people in Sutton. Our trained volunteers work with young people who are facing a range of difficulties, whether with low self-esteem or poor mental health, or with challenging family situations. MAPS Mentoring matches every young person referred with a hand-picked volunteer mentor to support them. Mentors meet with their young person once a week for a whole year.
Caroline first trained as a mentor in 2009 and has been mentoring for 10 years, finishing her most recent relationship in March of this year. She has mentored 7 young people during the time and is one of our longest-standing volunteers.
Here is her story:
"In 2009 I attended my training to become a mentor for the MAPS project. I had always been involved in volunteering throughout my life, and as I had recently moved to Sutton, I was looking for a new opportunity that would help me feel a bit more engaged with the area and local community. A couple of years earlier, I had been mentored through a work programme, and while this was obviously different to the support MAPS provides, it had really helped develop my confidence so mentoring a young person felt like a really great fit.
After completing the training, I was paired with a young carer. Over the years, I've been paired with a variety of young people who have come through to MAPS via different avenues, all with very different personalities and challenges. Whilst I've been a mentor, I've spent a lot of time listening to what each of these young people have had to say; giving them an opportunity to vent their frustrations, concerns and fears when they might have struggled to find a way to do this. It's been great to give them an opportunity to be there for them and to see the relief when they're given the time and space to get things off their chest as well as having a chance to celebrate great moments in their lives.
As well as a lot of talking, I've had some great trips out too, which have been great fun and given some mentees experiences they may not have been able to have in their home lives. I have quite a few fridge magnets from my trips to Chessington World of Adventures with mentees, we've been to see West End theatre shows, bowling trips, and forest survival skill courses (to name just a few!).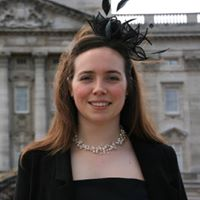 In 2014, I was invited to join the MAPS team at Buckingham Palace to collect the Queen's Award. It was an absolute honour to represent MAPS, who were thoroughly deserving of the award for all that they do. It was such an incredible day to be a part of, and still one that I think about regularly. I'm really proud to volunteer for a project that has done so much to help young people in the borough, with exceptionally professional and helpful co-ordinators who are so passionate about what they do."
Interested in volunteering with MAPS Mentoring? Please give us your details here and one of the team will be in touch soon.