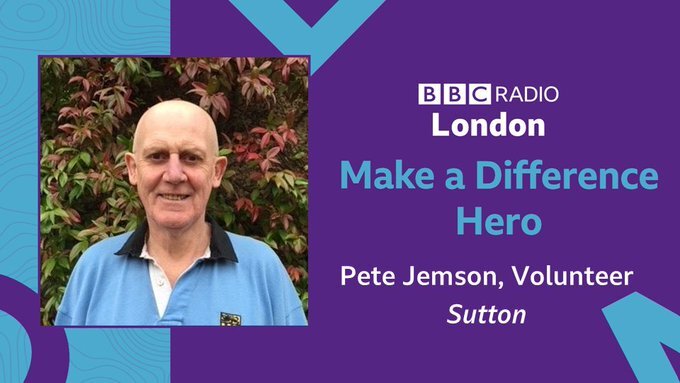 We could not be more proud of Pete Jemson, winner of the "Outstanding Volunteer" award at the 2020 Sutton Community Awards, and now nominated by Sutton Council for BBC Radio London's "Make a Difference Hero" awards.
Pete originally registered with Volunteer Centre Sutton right at the beginning of the pandemic. He has supported some of the most vulnerable members of the community with delivery of emergency food boxes from Hill House Community Centre, befriending support through our Sutton Befrienders project, and delivering hot fish and chips to the doorstep of many Sutton residents. He was also has been part of the volunteer team that made weekly PPE deliveries to GP practices throughout 2020.
Pete is a keen gardener and does a regular gardening slot for a resident which not only helps them stay on top of the household chores during a difficult time, but maintains a space that helps support their mental health.
Pete also supported a family with a regular weekly shop, through Sutton Carers Centre, which meant that the family involved could shield safely, and be relieved of the physical and mental chore of food shopping that was overwhelming for them at the time.
What makes Pete stand out as a volunteer is not just the sheer quantity of time he has given Sutton, but the quality of the relationships he has built with some of residents, who have been quite isolated, and struggling to juggle what are already difficult circumstances. One family put it:
"We are so grateful to Pete. We look forward to his visit each week. He is just such a nice man
."
As Pete says himself, one of the most rewarding aspects of his volunteering has been meeting those residents and seeing how much they appreciate the contact and support. For Pete, his experience has been so positive that he wants to carry on volunteering beyond the pandemic. Pete says:
"Volunteering is not just for Covid. Its beyond that and it's certainly something I want to continue."
Hear Pete talk about his experiences in the 2020 Sutton Community Awards virtual event from February 2021
Having already won the Outstanding Volunteer Award at the 2020 Sutton Community Awards, we're delighted that Sutton Council have nominated Pete to represent our borough in BBC Radio London's "Make a Difference Hero" campaign.