The Big Help Out campaign will encourage a national day of volunteering on Monday 8th May 2023, the bank holiday of the Coronation weekend. At Volunteer Centre Sutton, we are using this campaign as an opportunity to encourage, champion and celebrate all volunteering throughout the year.
Following on from the popular Sutton Volunteer Showcase, we're sharing details here of all the amazing ways YOU can get involved with The Big Help Out on the actual day, as well as some introductory volunteering taster sessions.
To find out more about Coronation events in the London Borough of Sutton, visit the Sutton Council website page here.
Find out more about other ways we can help you to volunteer here.
Coronation Village Fete, Monday 8th May 10am to 4pm
This FREE event is being organised by the Sutton New Town Community Festival and the Manor Park Friends Group. Find out more...
Find out more about Big Help Out volunteering roles with the Manor Park Friends Group here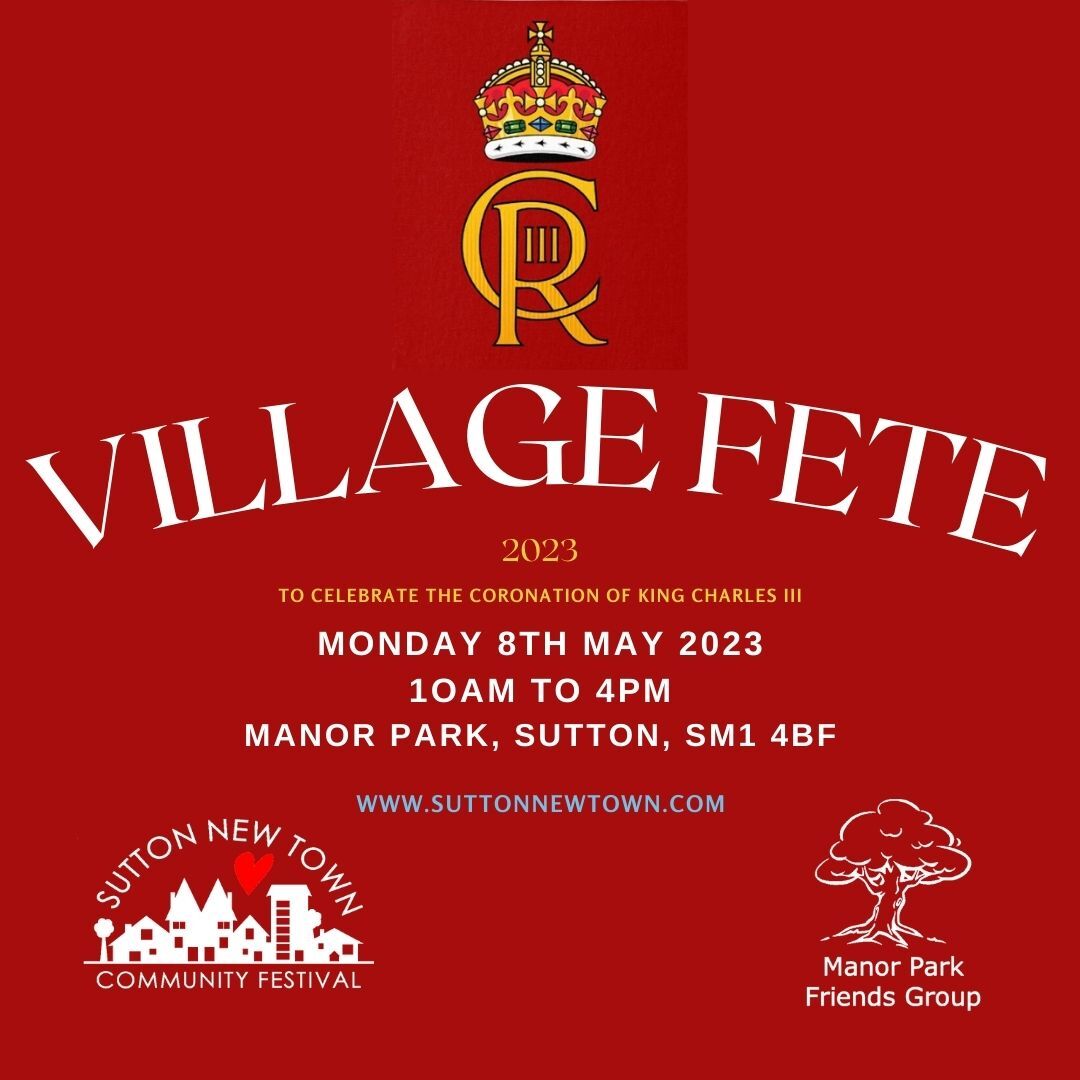 St Raphael's Hospice, Monday 8th May 10am to 4pm
As part of #TheBigHelpOut all of St Raphael's Hospice charity shops will be open on the bank holiday of Monday 8 May and they are inviting anybody interested in volunteering to pop along to their Taster Sessions! Find out more...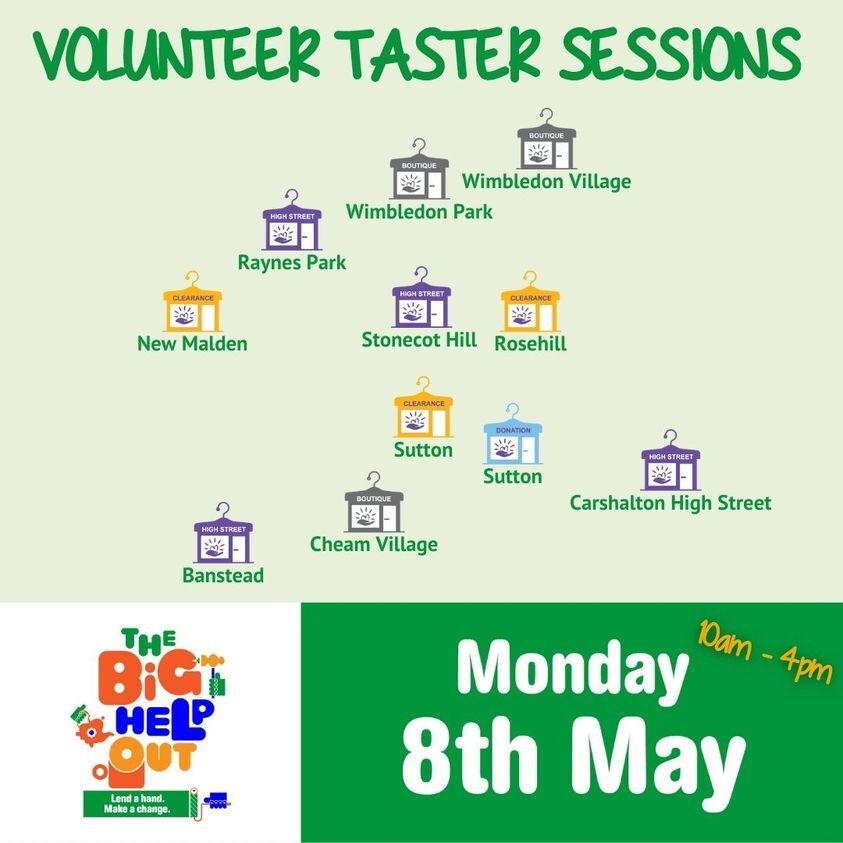 Sutton Vision, various dates
Volunteer with Sutton Vision to help get their sensory garden ready for Spring! Sessions run from 10am - 2pm on 25th, 26th and 27th April and 9th, 10th and 11th May. Please contact Amanda on amandalarter@suttonvision.org.uk or 020 8409 7166. Find out more...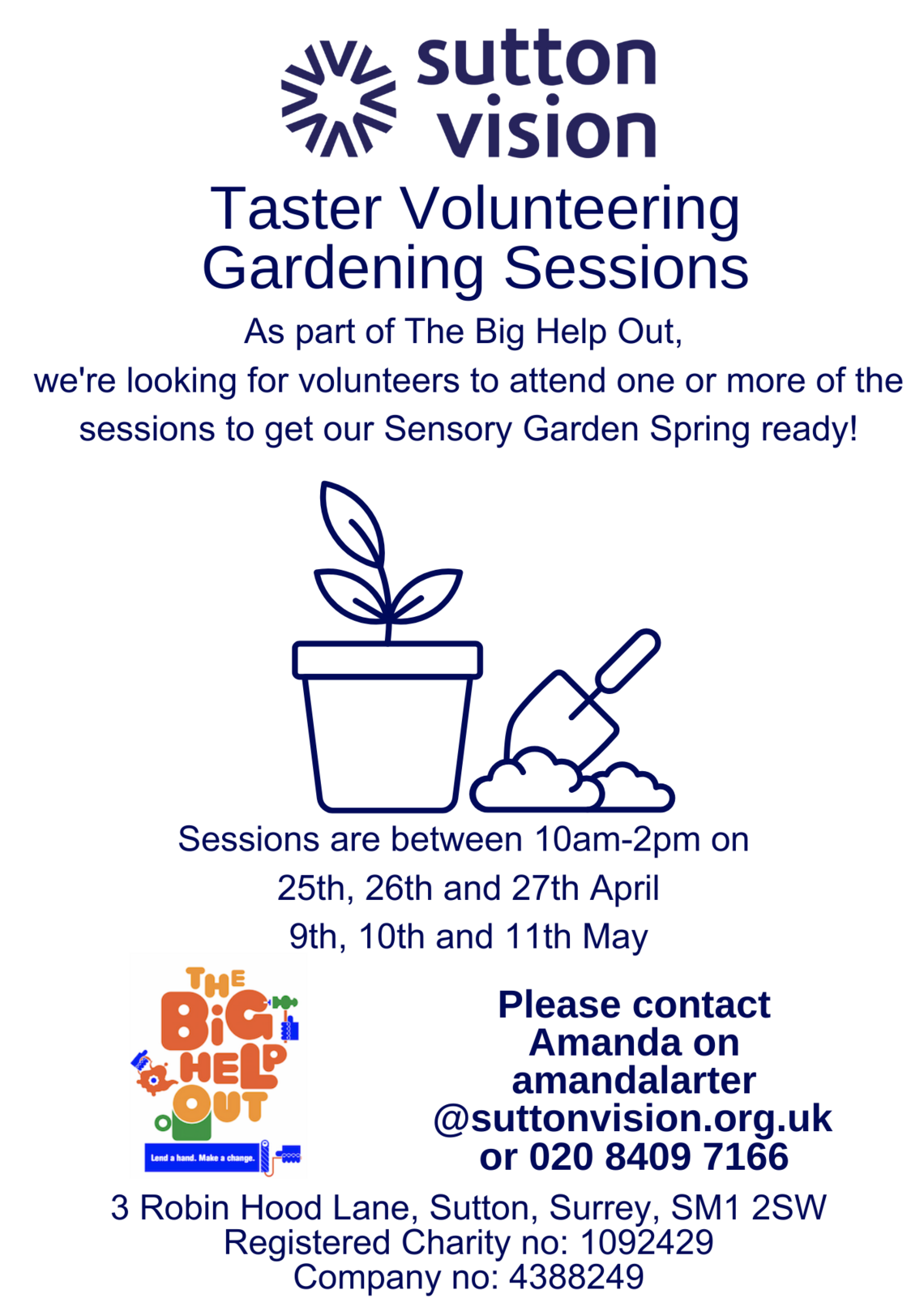 Focus Surrey, Saturday 6th May 9am -4pm in Morden, Surrey
Join for a taster session (minimum time three hours, ideally in the morning), just email focussurrey@hotmail.com to enquire, limited places. Find out more...
QEF Mobility Centre, various dates for taster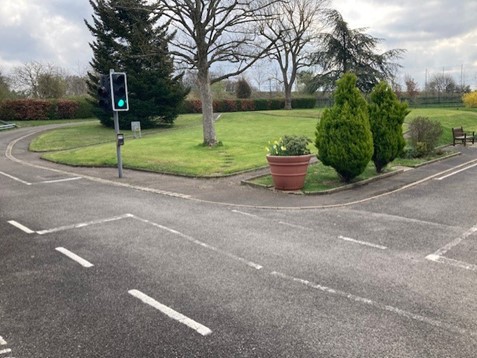 QEF Mobility Services have a large fleet of vehicles, many adapted for our clients who are attending a driving assessment at our Carshalton centre.
They also have a private track, with working traffic lights! It's great having their own driving track as this means a client can familiarise themselves with one of their vehicles, prior to them going out on public roads.
There are many roles available including:
car fleet valeting
fence painting
picnic table sanding and painting
clearing the driving track
gardening
sweeping demo area
office decorating
Find out more... Contact 07771 575198 or volunteering@qef.org.uk to discuss.
Ecolocal, Monday 8th May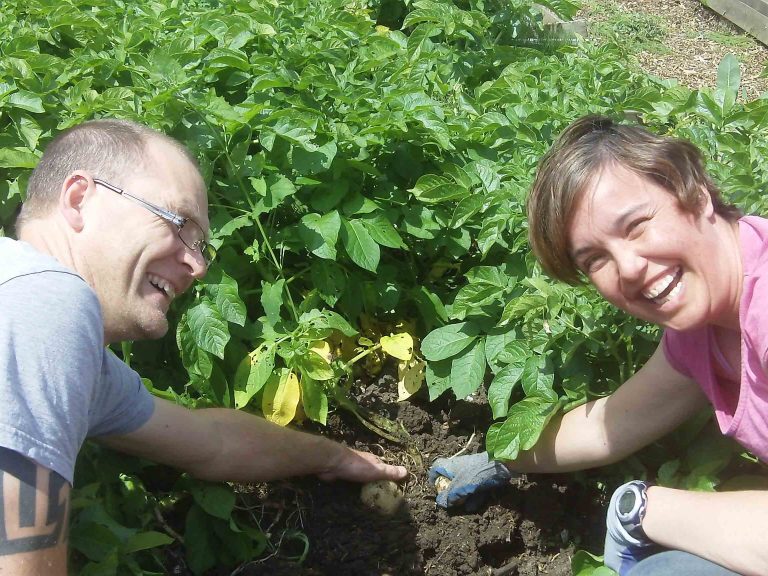 As part of THE BIG HELP OUT, come and try volunteering on EcoLocal's community allotment on Monday and Friday mornings including a special on Bank Holiday Monday 8th May. Find out more...
Sutton Scouts - 1st North Wallington
Go and visit them for a bite from their BBQ, cup of tea and a chat and a chance to have a go at some of their scouting activities.
Contact ian@1nw.org.uk 07889 208050 to let him know you're coming and save a spot.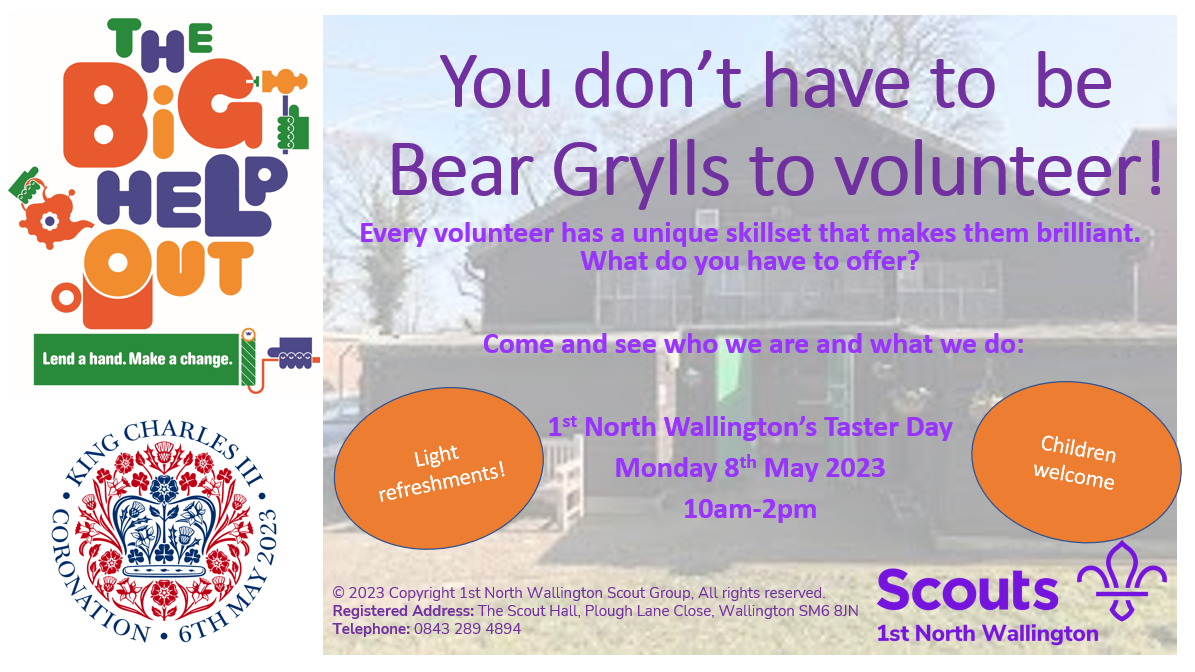 FAQs
What is The Big Help Out?
Let Bear Grylls (Chief Scout) explain it to you...
Who Can I Help?
You can help: your neighbour, children, animals, the environment, your local schools, hospitals, community groups, churches, older people, teenagers, people with disabilities and people wanting a friend.

Not forgetting, you can also help yourself by volunteering, feeling like you're making a difference, gaining skills, friendship and potentially a whole new lease of life!
Here are just some of the organisations you can help with on 8th May or around it, and we have 100s more looking for help. Anything you can think of, we can help you find something to suit.