Our Ukraine Coordinator, Nataliya Semchyshyn, tells us about how the Ukrainian Community in Sutton has celebrated Christmas this year:

Ukraine is a big country and so different parts of Ukraine might have rather different Christmas traditions. This is very noticeable with different traditional foods but also different traditions around singing carols. In some areas it wouldn't be Christmas without carols but in other places the young generations don't know traditional Ukrainian carols at all.

So this year, in Sutton we tried to be united, to share our traditions, to teach our children how to keep the traditions and to show that Christmas is one of the main celebrations in Ukraine. We were happy to involve all ages so that Ukrainians can be close to each other at this difficult time for them.

It was going to be their first Christmas without family and friends. Our big event on 6th January for the Ukrainian Christmas Eve gave a chance for everyone from Ukraine not to be alone. Also it was a great opportunity to invite sponsors and to share our hospitality.

The Ukrainian community cooked food at Sutton Salvation Army Church and others brought dishes from home. During the school Christmas holidays the children learned and practised Christmas carols at the Salvation Army Church and at Christ Church and we thank them for their amazing support for our community.

The 6th January was a wonderful event for everyone who came. The children, their families, the sponsors and the volunteers from the Salvation Army Church who gave such incredible help on the day. Money to support the event had been given to the church to be used just for Ukrainians. The service before the meal (The Holy Dinner) was given in both Ukrainian and English so that everyone was included and received a blessing. The children were word perfect in their singing and the telling of the Nativity and their costumes were amazing. Everyone heard the message from Nick, the Salvation Army Minister, that the Christmas Story was their story because Mary and Joseph were displaced people who had to escape from danger in Bethlehem to safety in Egypt and learn to live in a foreign land, leaving their family and friends behind at a time of danger.This message brought comfort and hope to many of the Ukrainians.

About 200 people shared in this event and it was a time of deep emotion but great joy and as one of the young women who has come to safety with her son later told one of the volunteers:
"Thank you for making such a wonderful evening. I was happy … like at home!"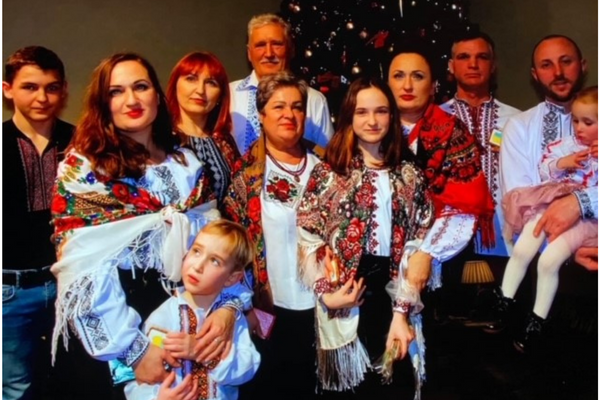 If you are from Ukraine and would like to join the Ukraine Sutton Facebook group run by Nataliya, you can join here.
If you would like to find out more about joining the Ukrainian Saturday School (5+), you can contact them here.
If you would like to find out how you can support people from Ukraine, including the Homes for Ukraine scheme, you'll find more information on the Sutton Council website.