Sutton Befrienders group activities
As well as our 1:1 befriending programme, we also run a number of group activities to help adults of all ages feel better connected to their community. As coronavirus restrictions continue to ease, we look forward to expanding what we can offer so keep an eye on this page. You can also
follow our Facebook page for updates
.
Walking Groups
Our sociable walking groups set up by Sutton Befrienders are to help people in the community get active, have fun and enjoy the benefits of walking in a safe and friendly group. All social distancing guidelines (see below) are followed, and as of Monday 29th March 2021, we are allowed to restart them,
They are open to anyone who may enjoy a nice walk with some company so please feel free to come along on your own or with a friend. No need to book, just turn up and look out for the walk leaders in their turquoise high vis jackets.
Don't worry if you think you walk slowly. Each walk has at least two leaders so that the group can split into two groups with slightly different paces. The main aim of these groups is for people to meet others, get a little fresh air and hopefully enjoy themselves!
All walks start at 10.30am and last about 30/45 minutes:
Mondays: Beddington Park (Meet opposite St Mary's Church, Church Road, Wallington - click here for Google map directions)
Wednesdays: The Grove, Carshalton (Meet at gate by Westcroft Leisure Centre, Carshalton - click here for Google map directions)
Thursdays: Nonsuch Park, Cheam (Meet at the Nonsuch Mansion Cafe, Nonsuch Park - click here for Google map directions)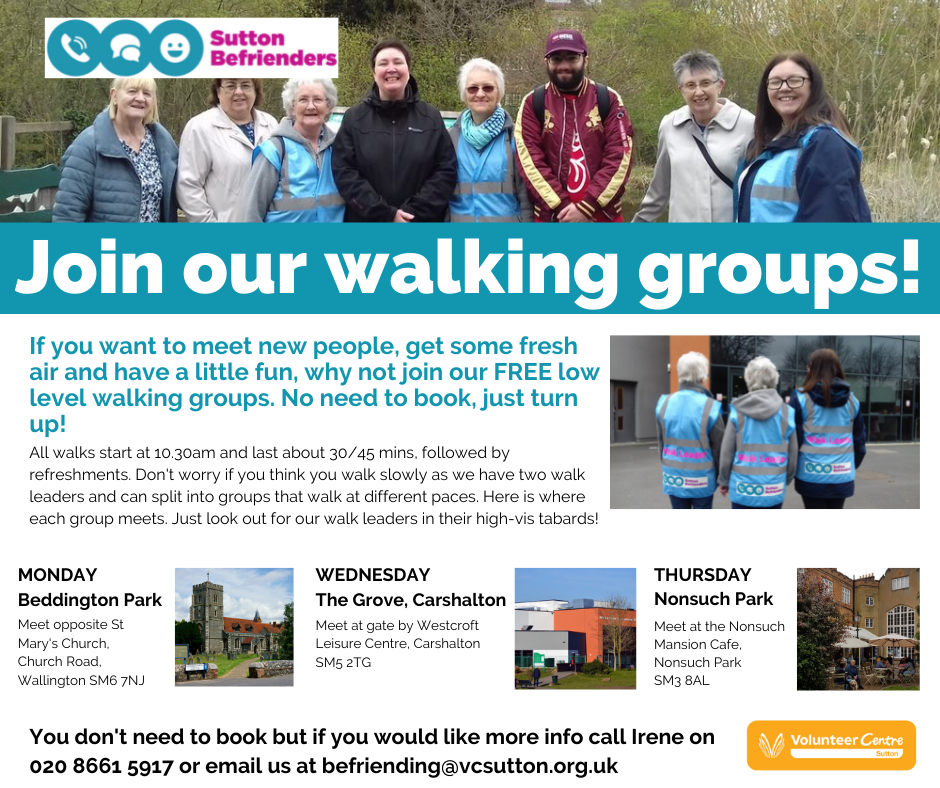 If you know someone who you think may benefit from these walks but might need a bit of encouragement, please feel free to refer them to us, with their consent. We will make contact with them to arrange for one of our walking group leaders to meet them, introduce them to the group and walk with them until they are more confident. To make a referral please email befriending@vcsutton.org.uk.
Volunteer Centre Sutton is the operational name of Sutton Borough Volunteer Bureau | Company type: Charitable incorporated organisation | Company number: CEO19319 | Charity number: 1048978 |