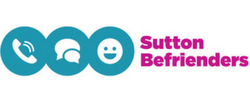 Sutton Befrienders is a volunteering project which aims to reduce social isolation and loneliness for people living in the London Borough of Sutton. We work adults of all ages who have found themselves lonely or isolated, whether through ill health, lack of mobility or lack of regular contact with family and friends.
The Jo Cox Commission on Loneliness found that more than 9 million people always or often feel lonely and that around 200,000 older people have not had a conversation with a friend or relative in more than a month.
We recruit and train volunteer befrienders to build meaningful relationships so that the adults they support feel less lonely, less isolated and better connected in their community.
Want to become a Sutton Befriender?
Join our award-winning group of volunteers! Sutton Befrienders won "Outstanding Volunteer Group" at the 2020 Sutton Community Awards. If you want to volunteer, please contact Sutton Befrienders using this form. You'll be invited in for an interview and asked to attend a day's training.
Want to get befriending support for yourself, or for a friend or family member, or for a resident or patient?
Please download and complete this referral form, and send it to befriending@vcsutton.org.uk or please feel free to call us on 020 8661 5900.
Resources for our volunteers
Sutton Befrienders easing of restrictions coronavirus roadmap March 2021
Time to Talk chatterbox conversation starters
Expense claim form for Sutton Befrienders volunteers
Expense claim form for Sutton Befrienders tele-befriending volunteers
Our activities
As well as our 1:1 befriending programme, we also run a number of group activities to help adults of all ages feel better connected to their community.
Find out more about our current programme of activities
Sutton Befrienders Stories
Volunteer Centre Sutton is the operational name of Sutton Borough Volunteer Bureau | Company type: Charitable incorporated organisation | Company number: CEO19319 | Charity number: 1048978 |