Our Integrating Sutton project aims to assist and ease the integration of new residents to the London Borough of Sutton, particularly those who have recently migrated from Hong Kong.
Part of our support includes matching newly settled Hong Kongers with a Volunteer Buddy. Our Buddying Programme aims to welcome individuals who are migrating, or have recently migrated, to Sutton into our community and help them to integrate through matching local volunteers to new residents with similar backgrounds and interests.
Our Volunteer Buddies will be a familiar, friendly and welcoming face in Sutton and meet with new our new residents once a week, to show them around the local area, offer advice, give recommendations or simply just to chat and catch up!
We caught up with one of our recently matched pairs, Robin and Eric:
"Eric and I meet once a week for an hour or so. To mention a few activities that we have done, we have visited Nonsuch Park, some local churches, as well as a pub where I introduced Eric to English beer, which he assured me that he enjoyed. I believe that we are both enjoying the programme. Eric mentioned at the outset that his main priority was to improve his English, which I am endeavouring to assist him with. We talk a lot, and I answer questions on a variety of topics, which I hope gives him a better understanding of many aspects surrounding living in the UK and interacting with the people of this country. For my part, I have learnt much from Eric particularly about Hong Kong culture. This was particularly so when we both attended the Mid-Autumn in September at St Dunstan's church, where I sampled Moon Cakes, a delicious Hong Kong speciality. I also had the opportunity to meet many other folk from Hong Kong who have started a new life in the UK." Robin, a Volunteer Buddy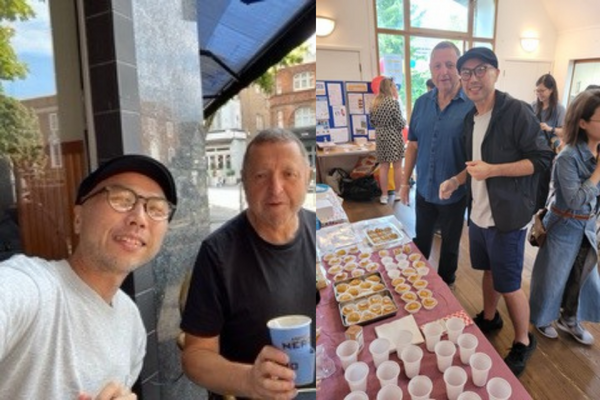 If you would like to find out more about becoming an Integrating Sutton Buddy, please get in touch with the Integrating Sutton team at Volunteer Centre Sutton: integratingsutton@vcsutton.org.uk.