Since the start of the pandemic, a staggering 12.4 million adults in the UK have volunteered – with more than a third stepping forward for the first time. For many people, lockdown has given them the impetus to volunteer, due to having more time on their hands, or wanting a legal excuse to leave the house, as volunteering to support vulnerable people is permitted.

Katie signed up to become one of our Neighbourhood Volunteers, where we match people who want to help someone in their neighbourhood, who might be self-isolating or shielding, with shopping for essentials and some regular contact. Not only has Katie been supporting two "shopees", but she is also about to start volunteering as one of our Befrienders, making a weekly phone call to someone who is isolated and potentially lonely.
Volunteering during lockdown has been a hugely positive experience for Katie and demonstrates that volunteers can get as much out of their volunteering experience as the people they will be helping.
Read Katie's story: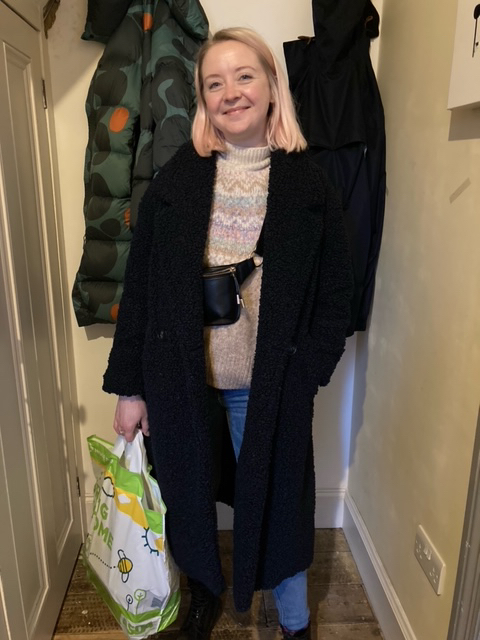 "Let's be honest, we're all a little bit sick of lockdown. Being physically isolated from friends and family, particularly after the Christmas rule change, has taken its toll, but if you're craving some company that's legal, why not think about volunteering?
During the first lockdown I was anxious, my two kids were being home-schooled, I'd been put on furlough and I'm not kidding when I say that a trip to the supermarket was becoming the highlight of my week. I wasn't in the right headspace to help others when some days I could barely muster the energy to face another day of arguing and worrying that my kids were missing out on their education. Fast-forward to lockdown 3.0 and my kids got key worker places at school and as I was still on furlough, I had a real urge to do something other than cooking and cleaning. After a particularly raw conversation with a friend whose kids didn't get a place at lock-down school I called Volunteer Centre Sutton and signed up straight away to shop for vulnerable residents so I could put the time I had on my hands to good use.
My first match was a middle-aged man caring for his elderly grandmother who had been shielding since March 2020. To say he was pleased to talk to another adult was an understatement and 45 minutes after he picked up the phone, I had a list and off I went. I added a second 'shopee' after an elderly neighbour collapsed against my fence with a bag of shopping. I introduced myself and told him that someone could help get his supplies via Volunteer Centre Sutton, which came in very handy with the recent cold snap, and I'm now waiting to be matched to someone who is isolated and potentially lonely for a weekly phone chat.
I have wanted to volunteer for a long time, but family life and work were enough of a juggling act, so this lockdown has given me the time, and renewed energy to help those in need. I can fit it around the school run and only shop during weekdays. I really enjoy checking in on the people I shop for and having a chat with people outside of my household. If you think you're in the right headspace, you have the time and the inclination to volunteer your time, I strongly recommend it. You can contact Volunteer Centre Sutton to find out about all the volunteering opportunities locally, not just with them, but with hundreds of different groups and charities in Sutton. It feels good to give back to my local community and that something as simple as making a phone call can lift someone's mood. We all need a little bit of that at the moment."

To find out more about volunteering in Sutton, you can sign up to receive our monthly newsletter with all the latest roles and opportunities.