Volunteers are a modest crew so on request, we've changed the name of Volunteer of the Month to Volunteer Story of the Month so you can share your stories to inspire others, without feeling like you're being singled out as better than your peers. You're all a great, supportive team for one another!
Sandra Lewis shares her Volunteer Story for August.
Similar to Meryem, featured in July, Sandra has caught the volunteering buzz and has put her hand up to help with many projects. So much so, that she supports Volunteer Centre Sutton in most ways!
You may also recognise her from several other stories, and recently our homepage as taking part in our Sutton Befrienders' Music and Movement project! Thank you to her for her invaluable help from us at Volunteer Centre Sutton.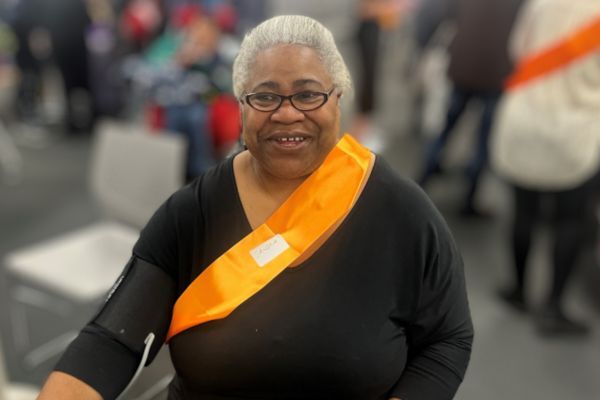 Here are her answers to a few questions:
Hi, what's your name and what volunteering do you do now?
My name is Sandra Lewis, since September 2022 I have been volunteering with Volunteer Centre Sutton in their office. This has been mainly admin, answering the phone, answering the door, welcoming people and helping everyone including Lisha, the MAPs team and Advocacy and befriending team. This included helping with the Sutton Volunteer Showcase as a volunteer (which is where the photo is from).
Most recently I have become a key Volunteer Advisor, then I added volunteering as a Health Navigator and most recently, through my volunteering role I have now gained two days paid employment coordinating the Benefit Form Filling volunteer project.
Any volunteering you've done in the past?
I started my career as a volunteer for Wandsworth Council in the 1980s. I started by helping an elderly lady, sitting with her reading, chatting with her and shopping for her. She told me her stories when she was in Poland. She had great interesting stories about her growing up – fascinating as it was during the war times – her experience and then coming here.
I then covered for the manager of the volunteer office at Wandsworth Council. That's where I got my office experience. Doing general everyday office duties, taking calls etc.
Then I volunteering with an under 5s play group. I was one of the play group leaders organizing events for the children, taking them out for fun outings.
What got you interested in volunteering?
Before, I'd just finished college, whilst I was looking for full time work I had some space time to do some voluntary work. I thought it was a good idea to get some experience.
Now, I wanted to get back in to volunteering as I'm semi-retired and I had some free time on my hands and I wanted to volunteer again. It was something I always wanted to do when I wanted to retire anyway, as I said I would do volunteering work.
I wanted to work in the office, continuing admin work. Whilst doing the admin work I gathered there was other interesting ways to help within the office that I signed up for.
Any examples where you really enjoyed volunteering?
I really enjoyed my time working with children and helping the elderly.
I took the children to the park, the adventure playground in Battersea Park, where I ended up on one of those walk bridge things that the kids like to go on – the rope ones that swing here and there. I got stuck and one the leaders had to get me down as I was afraid! Everyone just laughed!! At the time it wasn't funny for me, but now I can laugh! All the children were!
Anything you'd say to anyone interested in volunteering?
If you have any spare time, I recommend volunteering. It is worthwhile and rewarding, meeting different people and it gave me the chance to gain experience for a paid job. It gives me fulfilment, it gets me out of the house, structures my day and I like meeting new people. I like to give back my time that I have got and it makes me happy! I enjoy getting up in the morning and coming to volunteer!
We love to hear that, thanks Sandra!
If you are interested in any of the roles mentioned click here:
To get yourself booked onto a Volunteer Advisor session, click here for more information or email hello@vcsutton.org.uk.