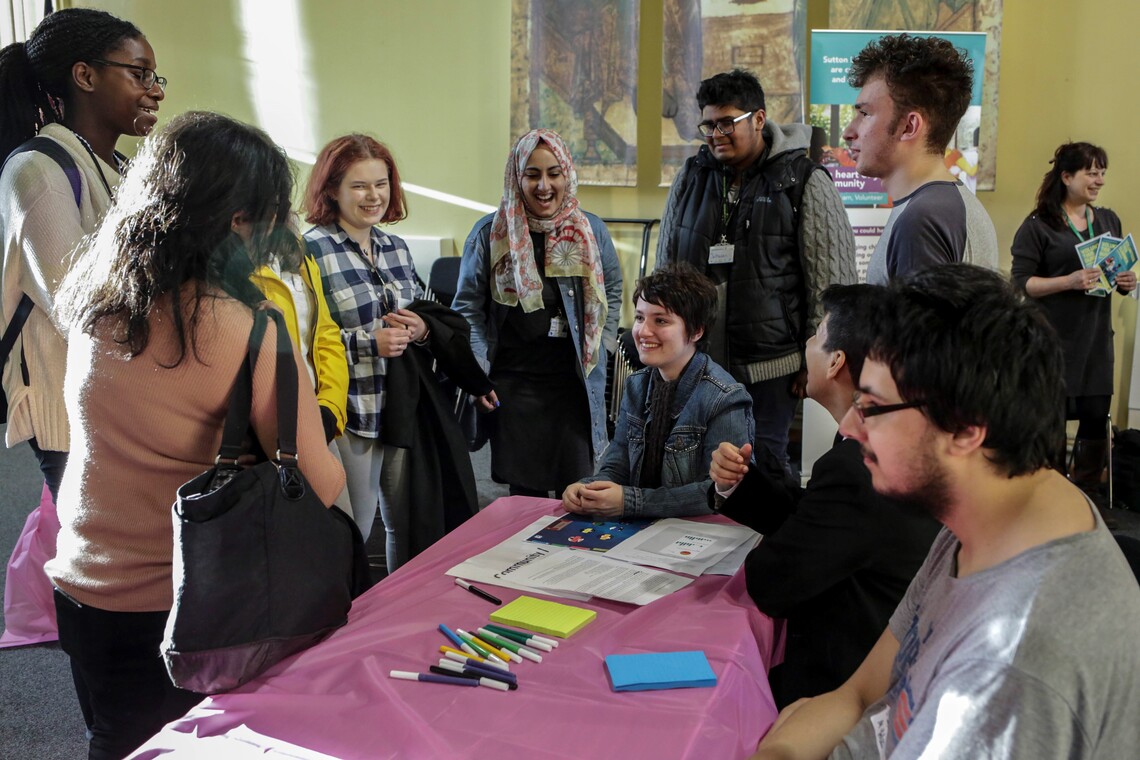 Our Young Commissioners are part of the Citizens Commissioning programme.
Next meetings
Friday 24th January 2020 4.00pm - 5.30pm (at Volunteer Centre Sutton, regular meeting)
Friday 7th February 2020 4.00pm - 5.30pm (at Volunteer Centre Sutton, regular meeting)
Friday 21th February 2020 4.00pm - 5.30pm (at Volunteer Centre Sutton, regular meeting)
Friday 6th March 2020 4.00pm - 5.30pm (at Volunteer Centre Sutton, regular meeting)
Who we are
We are the Young Commissioners of Sutton! We're the voice of young people, a voice helping to shape effective services, policies, learning, and developing activities in priority areas concerning the community. We are a diverse group made up of people from different backgrounds and different schools across the borough striving together towards a common goal: to meet the needs of young people , essential yet so unrepresented. This includes needs across and involving ethnicity, gender, sexual orientation, disability, socioeconomic background, and the many other elements of your identity that help to make you... You!
We work with several groups including the Sutton Children in Care Council dedicated to those in foster care and even the Sutton Council themselves. What makes the Young Commissioners special is that we are led by young people, made by young people, for young people. Your perspective is very important because decisions being made will impact you, your family and your friends. For us, when it comes to important decisions, age is no object-- we would love to spread this idea!
What we do
The Young Commissioners participate in the commissioning of public services. For instance, we are often invited to participate in activities related to helping Sutton Council making decisions by providing a youth perspective when picking service providers, identifying local community needs, coming up with solutions for local problems, and evaluating public services.
We hold meetings regularly at the Volunteer Centre Sutton to discuss current plans and network with guests from various institutions and expertise like Commissioners, NHS professionals, local charities, Councillors and other youth groups. And of course eat some snacks while we're at it!
We organise events to engage with people in our community and break down barriers.
The decisions we are helping to make apply to all aspects of our community, not just those concerning young people.
How to get involved
If you are a young person aged 12-18, living or studying in the London Borough of Sutton, who wants to make a difference and get involved with your community, join us!
To join our group, you can email our coordinator to introduce yourself and ask any questions about the group or just turn up to one of our meetings!
R U CLUED UP?
Do you think a lot of the British public actually know the details of issues they're voting on? And if not, what does this say about our education system? Why is it that not only are the public misinformed and uninformed, but the future of our nation know the least about it all? Starting small in Sutton, the Young Commissioners are looking to give democracy a long-overdue update: we will be hosting a series of interactive workshops, where young people across Sutton will discover how politics impacts every aspect of our lives, and form opinions based on the knowledge shared by MPs, councillors, teachers and more. We need this generation to start asking themselves and each other, R U CLUED UP?
From the end of the R U CLUED UP? workshops, we want dozens of young people to emerge who are more politically in the know, and more importantly inspired to learn everything they can beyond these workshops so they can start putting it all to use once they're eighteen. We hope that alongside countless other proponents of democracy and political knowledge across the country, we can ignite a cultural revolution where the next generation is one who understands deeply and cares passionately about the issues of their time.

Express your interest and register by emailing martarocco@vcsutton.org.uk
Volunteer Centre Sutton is the operational name of Sutton Borough Volunteer Bureau | Company type: Charitable incorporated organisation | Company number: CEO19319 | Charity number: 1048978 |